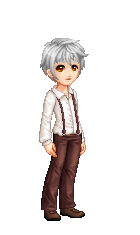 Snadien Jaminson is a scientist determined to end what he calls "Solia Suffering". Once a researcher at the North Sorven Institute of Higher Knowledge (NSIHK), he was dismissed after misusing lab and other research materials to support an unapproved side-project, even though his cause was noble. He decided after two weeks of weapons research, he realised his energy should be used to better the lives of Solians. Dr. Snadien Jaminson was using those materials to develop a new food replacement serum to help stop the Solian hunger crisis. NSIHK stated, "Though the materials were going towards a fantastic cause; without approval, we were given no option but to dismiss him."
He has opened his own shop, Professor Jaminson's Lab, to sell his sera, and has his own forum, Professor Snadien Jaminson, in which to discuss his ventures.
Character Info

Gender

Male

Age

65

Race

Terran

Occupation

Deceased Scientist

Faction

Solar
A year later During the Halloween Event Snadien was Killed by an unknown creature who left large scars across the body.